Lazio forward and former Birminham City loanee Mauro Zarate is set to leave Lazio and could be heading to either Arsenal or Tottenham.
Earlier this month his agent declared that both sides had been making checks on the 24 year old Argentinian, but with Adebayor finalising his deal to Spurs earlier in the week, Arsenal remain favorites to sign the 5ft 9 1/2in striker for around 20 million euros.
Zarate has excelled at Lazio and has scored 25 goals in his 103 appearances, instantly becoming a fan favorite at the Roma based club (he even ended up sitting with their right wing curva whilst being suspended). Mauro would fit in well at Arsenal and his versatility along the forward line would be a massive help to our threadbare squad.
He has experience at one of Europe's top leagues and has even performed admirably in the Premier League in a spell at Birmingham where he scored 4 goals in 6 starts as a 21 year old.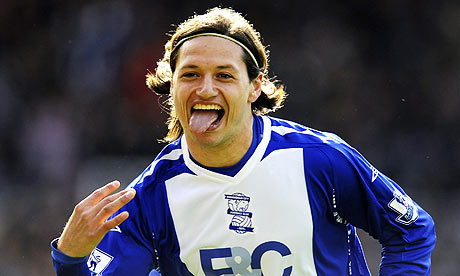 Having signed for 20 million euro s (£17.6million) Lazio would be keen to recoup as much of the transfer fee as possible, but seem resigned to losing the striker after admitting they will listen to offers for the forward.
The expected departure comes after a supposed fall out with the manager and president at the club, even after scoring 9 goals and getting 7 assists last season. Zarate's agent and brother said recently:
"Mauro loves Lazio and wants to stay, but not under these conditions,"
Mauro himself added he was open to a Lazio exit:

"In these conditions it is practically impossible for me to remain With my team-mates everything is okay. It's the president who must decide. We must see."
With the news that a deal for Eden Hazard is all but over, Mauro could also prove to be the creative fulcrum of Arsenal's attacking play in the next few seasons.
Possible Arsenal team (not including other transfers)
Having scored the winning goal in the under 20 world cup final, as well as scoring a crucial goal and penalty to help Lazio win the Coppa Italia, Zarate has shown he has the nerves for a big occasion. At 24 years old he is experienced, but is yet to reach his prime and would be an excellent addition to the current squad.