Following up from my last article, here are the 5 striker targets for Arsenal to consider this summer.
Karim Benzema
Whilst a very unlikely signing this summer, Benzema is definitely on Wenger's radar and would be a dream signing at the Emirates. The French-Algerian has been a natural goalscorer all his career and his free scoring in the French league earned him a massive transfer to Real Madrid.
Even though he's not first choice at Real he had an amazing season there, scoring 26 goals and setting up 9 assists in his 48 matches. But still Mourinho seems unconvinced. Benzema has amazing pace and at 6ft 1in is not small. He is a powerful player with excellent technique and could be a star in any team in the world. His finishing is great too. Personally I see him as the closest player to Henry at his best, and how we'd love to have a player like that at Arsenal.
Sadly, with the player wanting to fight for his place in Madrid, and Arsenal probably unwilling to splash out £25-30 million to get him, I can't see him joining us this summer.
Lukas Podolski
Podolski is another quality striker in world football. He may have drifted out to the wing in recent years, but that gives him extra versatility. He is very fast and has pin point accuracy with his finishes. At 5ft 11in he is not small either and he has the excellent determination that most German players have.
Last year he had a good season with Koln and helped them stay up in the German first division - if they had been relegated we may have been able to get him cheaply - by scoring 14 goals and getting 7 assists. He has a great tournament record with Germany and looks a world beater when he pulls on the national side's shirt. Only his love for his local side Koln keeps him away form Europe's top sides but the striker may relish one last challenge in the Premier league.
At a reported £15 million, 26 year old Podolski represents value for money - especially in this market - and would be a great signing for Arsenal this summer.
Radamel Falcao
Falcao is in the form of his life with Porto at the moment, helping Porto break records all around Europe while winning the treble last year. Since joining Porto 2 years ago, the Colombian forward has an amazing 73 goals in 85 appearances. Amazing stat. He looks set to join one of Europe's giant clubs very soon and Arsenal should jump in to complete his transfer as soon as possible.
At 25 years old, Falcao looks like he's about to enter his prime and get even better. He posses great pace and scores an incredible amount of headed goals, despite his average height - just 5ft 9 1/2in. Valued at 20-30 million pounds, Falcao wouldn't come cheap but if he could replicate his scoring statistics he would prove a bargain.
Hugo Rodallega
Rodallega is another Colombian striker who Arsenal have been monitoring. He has good PL experience, although has not been prolific and hasn't scored more than 10 goals in European football. He would be a good signing though. He is fast and very athletic and has saved Wigan form relegation by scoring vital goals.
The Colombian forward has scored 22 goals in his 89 Premier League matches, but that has been for a struggling Wigan side. Hugo has stated he would love to join a bigger side, and would be available for 10-13 million pounds. He would be a good addition as back up.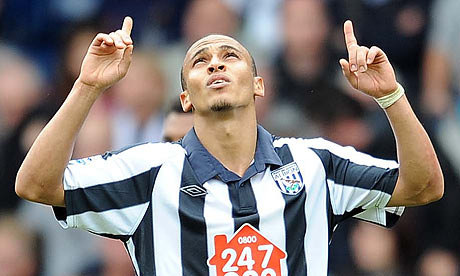 Peter Odemwingie
Odemwingie was linked with a 5 million pound move to Arsenal earlier in the transfer window, but no further news has emerged. The Nigerian striker shone for West Brom in his first PL season last year and his pace was very troublesome for all types of teams - Arsenal fans only need to remember the 1 point we picked up against West Brom out of 6.
The 30 year old would be the cheapest option out of the 5, but is also the oldest. But Arsenal can do with a few older players. We could complete his transfer for less that £7 million and he would be excellent back up for the injury prone Van Persie and inconsistent Chamakh. If he could replicate his 15 goals in 32 games, he would be a great signing.