Given all of the talk surrounding these three player sand the likeliness of their transfers to Arsenal, surely one of them will be joining the Gunners this summer?
All the are quality Premier league defenders and regularly give nightmares to rival attackers (especially Arsenal) but which one is the best defender? And which one is most suited to the way Arsenal play and the defender we need?
In this article I aim to answer these questions by comparing their stats and styles of play to come out with some answers to these and other similar questions.
A week after Arsenal made a £10 million bid for him, lets start with Phil Jagielka. The Everton man is 28 years old, and is set to be 29 in August so is the oldest out of the defenders, but also the most experienced and has 428 career appearances for Sheffield United and Everton, scoring 26 goals in the process. Jagielka stands at 6 ft tall and although not tall, he is more than comfortable at defending balls in the air, something Arsenal defenders are not comfortable with. He also has excellent positioning, which has improved with his experience making his one of the best defenders in the Premier League.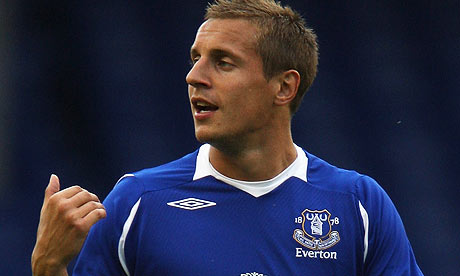 The Manchester born player is the more versatile defender and is known to play comfortably in midfield and occasionally at right back, as well as his main position in central defence - he is also handy when he needs to go in goal. A former Championship player of the year, Jagielka has 8 caps as a full England international, although personally I think if he had been at a bigger
club (like Arsenal) he would have far more than that.
Valued at 18 million pounds, Arsene would have to break the transfer record to buy the Everton man, who has 4 years left on his contract, though having been a fan of him for some time he may be willing to pay that price.
Gary Cahill has been the other target Arsenal have been linked with over the last few years and many cite his as being the answer to Arsenal's defensive problems. The Bolton player is 6 ft 2in and is stronger in the air than Jagielka, although I think Jagielka has better positioning.
The 25 year old defender - 3 and a half years younger than Jagielka - has amassed 182 career appearances for Bolton and Aston Villa, as well as on loan at Burnley and Sheffield United. He also has 3 England caps and is seen as the future heart of the England defence as Ferdinand and Terry's careers begin to dwindle.
Cahill is the heart in Bolton's defence and his excellent performances have saved Bolton on many occasions and nearly helped them to a Cup final place. Cahill has only one year left on his contract, but Bolton will still demand 15 to 17 million for their star player.
Jagielka's Everton (a better team than Bolton) conceded 45 goals in the Premier league last year, whilst Bolton conceded 56 goals. However, if you compare the players' aerial duels Cahill has a 66% success rate in his 563 duels compared to Jagielka's 58% success rate in 215 challenges.
Both players though compare well to Arsenal's defenders though, who struggled with high balls in the air especially last year with Vermaelen out injured. This is shown as the club allowed opposition sides 82 headed shots last year, a 52% rise form the 2009-10 season.
Only Djourou (61%) and Vermaelen (60%) have higher success rates than Jagielka and both are less than Cahill's. Koscielny and Squillaci have only a 53% success rate, which explains the unsuccessfulness of their partnership last season. However, arguably the best defenders in the air - Vidic and Samba - have above 70% success in Aerial duels, in some cases 20% more than Arsenal's defenders.
Jagielka (6716minutes) has played a lot less football over the last few years than Cahill (8794), due to severe injury problems. Given these injury problems, as well at his age, Wenger may decide to go for Cahill, who will offer more years playing at the top level.
Both players will improve our defence immensely, and ideally i'd like to sign them both, but that's just not going to happen. Given the news that we've had a bid rejected for Jagielka and are preparing a new one seems like we have gone for him, but I wouldn't rule out Cahill just yet. Hopefully we sign one of them soon.