What is the most Arsenal have ever paid for a player?
The answer to that question is 15.8million pounds on Samir Nasri, closely followed by 15million pounds on Andrei Arshavin. Both quality players, both worth it. That record highlights the frugal business that Arsenal have carried out (and continue to carry out) in recent years, and the fact that we can challenge our rivals who spent double or triple that on a regular basis is a big achievement.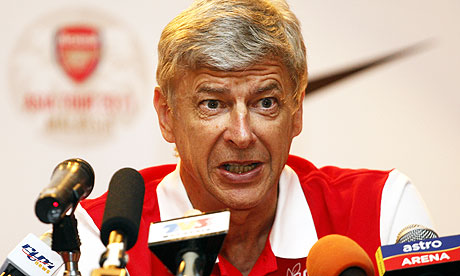 However, this season Arsene is keen to make a big statement. Not the one we want him to make though (a big signing) but he doesn't want to be a 'selling club' saying this on the pre-season tour of Malaysia:
"Big clubs hold onto it's big players and send a message out to all other big clubs"
I agree with him that we can't be seen losing big players, and if I were on the board i'm sure Barcelona would have received a fax saying 'fuck off' on multiple occasions such are their cheap and disrespectful bargaining over the price of Cesc Fabregas.
At the moment though, it is more than likely that we'll lose our talisman and captain. and to make matters worse it will be for a price much lower than his value in this inflated market.
But should we keep Nasri? A player who has been trying to engineer a move to our biggest rivals and who may well leave to them next year for free.
I think not.
Effectively, if we keep Nasri we'll be paying 25million pounds plus for a season long loan and no player is worth that much. Wenger may work his magic on Samir and even convince him to sign a new contract, but there's a massive risk that we could have a repeat of the Flamini situation.
Something Wenger categorically denied would happen just a matter of months ago.
Nasri did make a 20 minute cameo appearance against a weak Malaysian team and so far hasn't shown signs of sulking. To be fair to him, he's been very professional, but can we trust him to be there for us at key moments of the season when he doesn't really want to be here.
This is a player who even went missing at key stages last season, and is not the proven world class player that Fabregas is. Unlike Cesc, Nasri is replaceable.
For the £25million that we're paying for the "loan" we could easily acquire Juan Mata of Valencia. Mata has shown great signs of becoming a world class talent and has been the heartthrob of Valencia's attacking prowess since the exits of Villa and Silva.
The 23 year old has already made 11 appearances for Spain's national side, and was integral as the under-21s won the European Championship.
A lot depends on the ifs and buts of Cesc's transfer, or non transfer to Barcelona, but ideally i'd rather have Cesc and Mata at Arsenal than Cesc and Nasri.
Also if this key decision backfires for Wenger, it could be one of his biggest mistakes in management, and we can't afford to get much more key decision wrong.