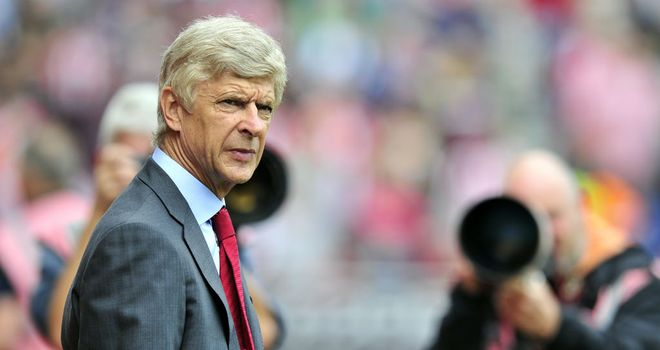 There goes the good start we had. Regardless of the opposition 2 wins 3 draws and 1 defeat is not a good start by any stretch of the imagination.
Today kind of sums us up in the fact that we had quality spells in the game and plenty of chances to get something, but were let down by poor finishing and absolutely unforgivable defensive errors from set pieces. After the game Arsene said

"It's sad because we have a good team and we gave this game away the way we did.

We played at home, we conceded two soft goals from set-pieces. At home you cannot concede goals like we did today." In a certain way all of the goals we have conceded this season have been done so in such a terrible manner, and quite frankly should have been prevented.
There were some poor performances across the side, and the only players that truly impressed were the full backs Jenkinson and Gibbs in particular, who have been two of our most consistent performers this campaign. Moving on to the bad, and as much as he was superb last week, Koscielny had a poor game today. Per's organisational skills, aerial presence and most importantly calming influence on the side were very much missed.
What is great is that we now have a squad which needs rotating, but it highlights how hard it is to get the big selection calls right for a manager. In hindsight, Wenger was wrong to select Koscielny, who made it clear this was only his second game in a couple of months. Even Vermaelen looked a bit out of sorts without the gentle German beside him, as showed by the needless free-kicks he gave away.
Yet is wasn't just the errors of our defence that resulted in our first defeat of the season. We had chances aplenty, and good ones too, which you have to take advantage of in the big games. We had more possession and more shots on target (4), whilst we also had 10 shots off target. The key chances fell to two of our big summer signings. Podolski did well to engineer a well timed header that seemed destined to loop over Cech's outstretched hand and into the net, yet the 'keeper made a stunning save. Giroud entered the match for the last 25 minutes and had two chances. One was deflected and almost resulted in an embarrassing moment for Cech as he almost pushed the shot into his own net. The next was an awful miss. The 90th minute in a game that we needed to win but found ourselves losing. He cleverly rounds the goalkeeper yet the Frenchman couldn't get the ball out of his feet and preceded to miss an open goal.
Overall we were also quite sloppy in possession, and couldn't get our key midfielders into the match. Chelsea stuck to their game plan and Ramies, Oscar and Mikel were working very hard in the middle of the field. Arteta in particular was heavily closed down and restricted from dominating the game. Last week he completed 100/106 passes whilst this week that almost halved to 59/63.
Similarly Cazorla was stopped from picking up the ball in the areas where he can make the most damage. As shown in the image, he had to move all over the pitch to pick up the ball an made few key passes. He also failed to get any shots on target, whereas last week one of his 3 shots ended up with us scoring from the resulting corner.
Added to the decision to start Koscielny, Arguably Arsene Wenger made another key error in terms of team selection later in the game. After the set-back of Chelsea's second goal, we were starting to bounce back in the game and create chances, with Gervinho being successful in winning back the ball high up the pitch. Yet the French manager, who arrived at the club 16 years ago yesterday, decided to take off Podolski and Ramsey in favour of Walcott and Giroud.
For me, bringing on Giroud - despite his horrific miss - is not a bad choice, we needed two goals and he has the natural instinct of a centre forward which Gervinho lacks. Yet the key decision is to bring off Podolski. When we need two goals, Podolski is not the man you take off. He is the best finisher at the club and was starting to grow into the game in the second half. I always feel that if he gets a proper chance on his left foot he will score it, with others in this team I have nowhere near as much confidence.
Gervinho was his erratic self when switched to the left hand side, while Theo "striker" Walcott was non-existent out wide on the right. The substitutes seemed to halt our momentum and Chelsea were easily able to close out the match bar that Giroud chance.
It was most disappointing that our challenge went out without a proper fight, plus the way in which we lost the goals is unforgivable and definitely a reminder of the Arsenal sides of recent years. Despite all this though, we could have won the game, and created the chances to do so when we were not at our best. So there are some positives, however minimal they seem.
Overall though, today is a bad day and we need to draw a line under everything that happened and learn form our mistakes. 9 points from the next 3 matches is turning into a must now, if we have any desires to seriously challenge fore the league. More to follow.