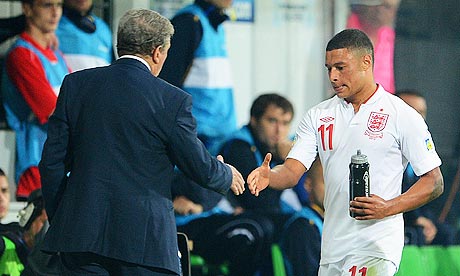 The international break is never great for Arsenal news, especially following our first win of the season. While we would very much prefer to press on with the "proper" football, at least it's good to see our players on top form for their clubs.
Diaby in particular was very impressive on his international return with France, where he scored in their defeat of the Finland. Diaby had a storming game against Liverpool, and seems to be back on top form after all of his injury problems which have plagued him over the last few years. Playing for France isn't the best thing to help him maintain his fitness, when last season he pretty much picked up an injury every time he attempted to sprint. But at least the new French manager is being so full of praise for the midfielder, saying

"He is a boy with a lot of qualities, but I knew that. He is a complete midfielder."
Gervinho also had an excellent match, scoring once, assisting two, and winning a penalty as the Ivory Coast won 4-2 against Senegal. That clinical ability is something that has been lacking in Gervinho's performances since the turn of the year. His talent is evident to everyone, but the lack of end product is
definitely
something that needs to be
addressed,
especially
with the Walcott situation yet to be sorted.
Cazorla also starred for Spain, and continued his goalscoring run as he scored the first in Spain's 5-0 demolition of Saudi Arabia. The fact that Cazorla has been able to win 48 caps for Spain in this golden age where they have won 2 European Championships and a World Cup just highlights what a talent he is, and since he does not look out of place amongst players such as Xavi, Iniesta and Fabregas is perhaps the greatest praise of all. People who have followed the 27 year olds career for a number of years are saying that since his transfer to Arsenal he is playing some of the best football of his career.
All the other international representatives for Arsenal were on the winning side as well, other the Wales captain Aaron Ramsey as he faced Vermaelen's Belgium.
Yet for Chamberlain, apparently his assist and all round performance for England against Moldova was not enough. Whilst Hodgson was pleased with The Ox's first half contribution, he dropped a bombshell to the press saying that Chamberlain "
forgot to play in those first 15 minutes of the second half." He should have done enough to maintain his starting place for the game against the Ukraine, but a comment like this will certainly keep Alex grounded - if not a little upset. This is a key year for The Ox, he has immense potential but still needs to work hard to nail down a guaranteed starting place for both club and country.
All in all it was a successful few games for the Arsenal players, but hopefully they can get back to putting in those performances for us.