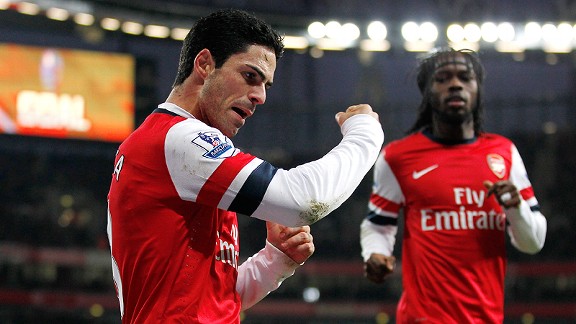 It's great to get back to winning ways. No matter how fortuitous we may have been in regards to the two penalties we received yesterday, all that matters is that we won.
The win could have been more convincing had Wilshere, and the disappointing Gervinho and Podolski managed to not miss from seemingly easy positions in the 6 yard box. But we won, and the 3 points on the board were exactly what was needed.
Perhaps the main positive from yesterday's game was the return of fluency in our attacking movement. The midweek break for Arteta, Cazorla and Wilshere in particular seemed to work wonders and they dominated the game against a West Brom side that have been excellent so far this season.
Jack was definitely back to his effervescent best, and combined well with the other attacking players throughout, really taking the game by the scruff of the neck at times. Some of my favourite aspects of Wilshere's game are his weight of pass, which never seems to desert him, as well as his drive from midfield which helps propel the side up the pitch.
The more he improves and gets his full fitness the better our season can be. Already at 20 he is a leader on the pitch, and you can see the other players turn to him when the heads drop. Whilst it is great to see him edging back to full fitness, hopefully Wenger realises that he needs more support in the centre. Him, Santi and Arteta have almost been wrecked by the recent run of matches, and the their rest this in midweek only served to highlight how great they can perform when given an adequate rest. Whilst there are a lot of problems with the squad right now, an extra midfielder to join those three in midfield should be high up on the priorities this January.
In regards to the ever-approaching January transfer window, there has been a lot of news in terms of transfer targets in the Sunday papers today.
French paper L'Equipe has reported that Arsenal are set to sign Klass Jan Huntelaar. The article appeared in the Sunday edition, and it yet to be posted online, but L'Equipe are reliable in terms of Arsenal transfer dealings and predicted the summer swoops for Giroud and Cazorla.
Whilst there is no concrete evidence, the overwhelming attention being given to this proposed transfer, the sheer amount of attention being given to this story certainly makes it seem plausible. Huntelaar would definitely fit into our strict wage structure, and the mooted price of 4-8 million pounds certainly makes him affordable.
The Dutch forward has an amazing goalscoring record for Schalke, with 58 goals in 68 games and has already highlighted his striking talents against Arsenal this season, scoring two goals against us in the Champions League. Whilst some people lambaste Huntelaar for not having enough facets to his game, since his move to Germany he has certainly improved his play in and around the box, and has still retained his lethal finishing ability.
Signing him would certainly highlight our ambition to sort out the problems that have plagued us so far this year, and would equally sort out our striking problems, which have meant that Chamakh has actually played this year.
We have also been linked with some added steel in the midfield. The Mirror are reporting that Brazilian midfielder Luiz Gustavo is set to be up for sale this January, as he is unhappy with his rotation role in the Bayern Munich squad. The 25 year old cost Bayern £10 million and is likely to leave for a similar price, but is a Brazilian international and has impressed for Bayern in recent years.
Much closer to home is the Senegalese Diame, who currently plays for West Ham. His wholehearted style has lit up the season so far with impressive displays for West Ham since he was signed on a free transfer in the summer. The ex-Wigan player apparently has a buy-out clause which is believed to be £3.5 million which Arsenal may be looking to exploit in January. This news was reported after the West Ham chairman, David Gold, tweeted

"Diame does have a release clause in his three-year contract. He joined us from Wigan on a free transfer." If we did sign Diame, he

would certainly add depth to the depleted midfield, whilst he also has Premier League experience which is vital as he would not need a "settling in period" that other might need. Whilst some may argue that he is not a "star" signing that is needed, he will certainly help our squad and, for me, is one of the best options that is available right now. At that price he would be a great bargain signing.
Lastly for today, there has been more news regarding Theo Walcott's contract situation. Walcott's recent injuries have postponed the transfer discussions until the New Year, which has angered Wenger, who had wished the matter to be resolved at the start of December.
As the time goes by and Theo seems no closer to signing a new contract we are met with the very probable possibility that he may be leaving the club, and the only real remaining question is whether he will leave in January or the Summer. For me, losing Theo would be a massive blow to the club, not necessarily because of the talent of the player, but because we have already lost so many key players in recent years, and if Walcott does head for the exit door it will definitely be a big blow to the squad, as well as the clubs reputation.
There is still hope for Theo, but with every passing day it gets less likely.
Thats all for now, but there will be more news to follow, as we start to look forward to Bradford on Tuesday.