In a week where we have lost Alex Song, a key member of the squad in the last few seasons and the 3rd highest assister in the Premier League last season, the blow has surely been compounded by the fact we have lost out on Turkish international Nuri Sahin, who is set to complete his season long loan to Liverpool.
In his press conference, Wenger was keen to stress that it was completely up to the club to not sign Sahin, yet was it the greatest decision the Frenchman has made?
Sahin was voted the player of the year in the Bundesliga only two years ago, where his cut and thrust in midfield helped Dortmund to their first title in almost a decade. The 23 year old Turkish international made 40 appearances in all competitions that season, and contributed to 21 goals for his side with 8 goals and 13 assists.
That season he had built on his excellent form of the season before where he managed 9 assists in his 36 matches. Sahin was seen as the main dynamic cog in a midfield which included the likes of Manchester United midfielder Kagawa and German wonderkid Mario Gotze. Whilst he was not as attacking as those two player, he was still the creative hub of the side from a deeper role and dictated the tempo of many Bundesliga matches.
The German born midfielder is by no means weak either, and is well built in his 5ft 10in frame which would suit the Premier League's fast pace and physicality. Looking at the two matches Arsenal have played this season, they have certainly lacked some creativity, which has meant that chances have been few and far between for Wenger's side. Against Stoke in particular the Gunners completely controlled possession but did not work Begovic much at all. Perhaps had Sahin been in the midfield instead of Diaby or Arteta, or even Cazorla who faded as the game went on, then he would have laid on the chances for the strikers.
There are also more positives that would have been taken from signing the man who has 31 caps for Turkey. Alongside Cazorla and Podolski he is very much seen as an elite player in Europe and would significantly soften the blow on the Arsenal fans which have seen Van Persie, Song, Fabregas and Nasri all leave the club in little over a year. Perhaps he could have been a signal of intent about where Arsenal want to finish this season, as we have already been left behind by the Manchester club and Chelsea and even find ourselves a couple of wins behind Swansea. Moreover Sahin is believed to have been very keen on a move to the club, which is a welcome feeling after the transfer sagas in recent year involving world class players who don't want to play for us.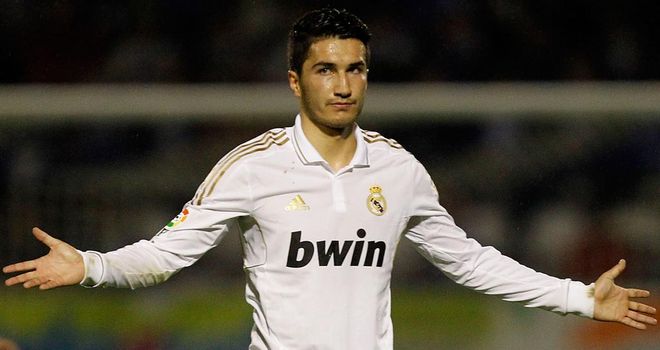 Yet there is understanding behind Wenger's decision to not go for Sahin. Nuri struggled with form and fitness after his 10 million euro move last summer, and only made 4 league appearances with no goals or assists. Arsenal have struggled with players who have perennial injury problems in the past and Sahin even failed to make his debut for Madrid until the 6th November, and consequently failed to fully regain his fitness all season.
Similarly there were problems surrounding the transfer negotiations with Real. The players' wages are around 4 million euro per year and it is believed that Arsenal were not willing to pay the full amount during a season long loan. Also Arsenal were very keen on a deal involving an option to sign Sahin permanently after the laon was concluded which was very difficult to negotiate with the Madrid representatives. In fact the behaviour by some Madrid staff is said to have been so unwilling to negotiate with Arsenal there were even some rumours that Mourinho was trying to deny a deal with his former foe Wenger.
Also consider the talent in place in central midfield, including Arteta, Cazorla, Chamberlain, Diaby, Wilshere, Coquelin, Ramsey and Rosicky. Whilst even the youngsters such as Aneke, Henderson and Eisfeld knocking on the door after impressive pre-seasons. There are plenty of players who can occupy the deep lying playmaker role/ box to box midfielder that Sahin prefers, whilst we are certainly lacking proper, experienced options in the free role and in defensive midfield. Maybe Arsene is waiting for other, more necessary reinforcements in midfield.
There has also been a lot of positive news surrounding the comeback of Jack Wilshere in the last week, with Arsene Wenger hinting at a possible September/October comeback for the talented Englishman. The good news around Wilshere may have meant that the services of Sahin were not needed anymore, especially considering how similar they both are. But can we afford to rely on the fitness of Wilshere who has been out for over a year, and wont have had a proper pre-season.
Overall it is easy to say that we should have signed Sahin, who is clearly a very talented player, but the decision is not as clear cut as it can be made out. Even if the deal is a loan, apparently Liverpool are paying a £7million package to secure his services for a year, and Arsene is apparently on the look out for permanent deals as well. Arsene is adamant that we are the ones that pulled out of the deal so any suggestion that we are not financially capable of signing him, or we were beaten to his signature by Liverpool, are probably not true.
It remains to be seen whether we have made a mistake, but if we can sign some players equally talented players then we will soon forget about this transfer that never was. Good luck to Sahin, and who knows we could go in for him next season as we did with Cazorla.