A long summer in stall for the Frenchman
Under Arsene Wenger, Arsenal's transfer approach has mainly been centrered around recruiting players outside of the Premier League, where the transfer fees can be easily distorted. This mainly stems from the failed summers of 2000 and 2001 where Wenger splashed out a total £11million on Jeffers and Richard Wright, which did not end up being great value. Instead our main shopping ground has been in France, whilst recently we have been looking at Germany and Holland to buy players that can become Europe's best.
But last summer, an awful summer by any stretch of the imagination, Arsene slightly changed his policy. Signing the experienced Spaniard Mikel Arteta from Everton. Arteta instantly fitted into the Arsenal side, becoming an integral cog in the fluid attacking machine that makes up Arsenal; in fact until the last day of the season, we had yet to win a match without Arteta in the side.
With another long summer of transfers set to begin, will Arsene revisit the Premier League for more talent this summer? Here are 5 top targets he could go for:
Clint Dempsey - Dempsey is clearly a great talent. The American has been in stunning form over the last few years, and I've been somewhat surprised that a bigger club hasn't picked him up already. This season has seen the Texan go into another gear though, with an amazing 17 goals and 6 assists, and it seems that he is destined to leave Craven Cottage this season for pastures new.
His versatility would be very helpful in bolstering our squad, as Benayoun looks set to depart after concluding his loan deal. Dempsey is equally capable on the left or right of midfield, with his deceptive pace and ability to beat players, cut in and shoot or put a cross into the box, he certainly seems to have everything in his locker. He can also play centrally as he has done for Fulham in recent seasons, both upfront and in midfield. His finishing is as good as any of our wide men, whilst he is also capable of scoring from dead ball situations too.
Having signed a contract until 2013, he is in a similar position to Van Persie, although apparently talks have stalled with the former New England Revolution player. If we were to bid for him, the price should be around 10 million pounds as outlined by the Daily Mail. Is it worth a pounce for a 29 year old who has never played in the Champions League? His contract demands shouldn't be over 60-65k/week, which fits in with our current wage system, but with other teams lining up bids will he be able to get more game time elsewhere.
Overall he'd be a great signing to back up our squad if we want to produce a title challenge, his determination has made him one of the best players outside the top 6, and probably the best if you take Liverpool out of the equation. I'd love to have him, but we may have our eyes on other talents this summer.
Rumour rating 7/10
Moussa Dembele - Next on the list is another attacking Fulham player. This time the 24 Year old Belgian Moussa Dembele. It is fair to say he did not made an instant impact in the PL but his technical ability was always on show.
Like Dempsey he has really improved this season, and has contributed to Fulham rising to 9th place with 2 Goals. Similarly he is quite versatile too, playing down the middle of the forward line, as well as either side of midfield, being able to launch left footed strikes in at goal from all over the pitch, as well as lay on 2 assists for his team-mates. This season he has played more than a dozen times in central midfield, and has improved the defensive aspect of his game significantly. He is 5 years younger than his American teammate and is part of a Belgian squad that has a lot of potential to make a big impact internationally in the next few years.
Having signed only 2 years ago for 5 million he would not come cheap. But would represent value for money in the long term. The Belgian has attracted interest from Manchester United, who may be set to make a £10 million bid, yet Arsenal are also monitoring him and may rival United if any movement is made.
Overall, likewise to his Fulham team-mate he would be a good addition. Not a stellar signing like Hazard or Podolski, but someone who is proven at Premier League level and can fill in for the side in a number of positions. He would be expected to raise his contribution in terms of goals and assists though.
Rumour rating 6/10
Gylfi Sigurdsson - The ex-Reading midfielder has been a stunning signing in January by Swansea. He complimented their beautiful attacking football, and weighed in with an extremely impressive goal tally of 7 in 18 appearances. It is no wonder that Brendan Rodgers is keen to secure his services permanently next season, but it may be out of his hands if Arsenal want to bid for him.
The Icelandic struggled for Hoffenheim in Germany this season, but settled in easily in the Premier League. His passing style at Swansea would very much suit Arsenal's attacking style, whilst Wenger is a known admirer of the 22 year old. He even managed 3 assists during his time at Swansea with a pass success rate of 84.5%.
Unlike the other players, Gylfi is not versatile but he will certainly add depth to the central midfield position, whilst his eye for a goal may single himself out form the rest of the competition. He is also a dead ball expert which is something Arsenal are lacking, and could enable our talismanic captain to score more from set pieces.
Having signed for Hoffenheim for over £6 million, and being their player of the season for 2010/11, it is likely that they would wish to at least recoup what they paid for the 22 year old, especially after his good performances for Swansea.
Overall he would be a good signing, but there is a lot of competition in central midfield already at Arsenal. I think a return to Swansea is probably the most likely destination for him, but dont expect to see this rumour disappear as Wenger is a strong admirer of the Icelandic international.
Rumour Rating 5.5/10
Stephane Sessegnon - The mercurial attacking front man gave some stellar performances for Sunderland this season, his rise to form coinciding with the arrival of Martin O'Neil to the North East club. He was quite slow in adapting to the rigours of the Premier League, but his talent is surely regarded as up there with the best after this season.
The Benin international has exceptional technical ability, and we have seen him develop his strength to suit the toughness of the Premier League. At 27 years old he is certainly in his prime, and that showed through his 7 goals in the league, equalling his highest tally of his career. The Sunderland forward has great pace too, whilst his passing is superb, shown the the 9 assists he has this season.
He is very versatile too, playing in a number of positions this year, when Steve Bruce signed him he gave some stunning praise, describing his as a player who

"can play on the left, on the right, through the middle – he's lightning quick and he's a match-winner". He probably favours playing behind a front man, but at Arsenal he could take up a similar position to Nasri did previously, or Arshavin on the left; being an attacking midfielder played out wide, an integral position in the modern game.
Stephane would probably be the most expensive out of all 5 players described. He signed 18 months ago for 6 million pounds, and his contract doesn't expire till 2014, which means he would probably be priced at at least £15 million. But he is a quality player.
Overall Sessegnon is a great player, something we found out when we played Sunderland this year, and he would be a quality addition to the squad as we look to strengthen the side and possibly mount a title challenge. He is quite unlikely to leave the North East though as he seems very happy under O'Neil.
Rumour Rating 5/10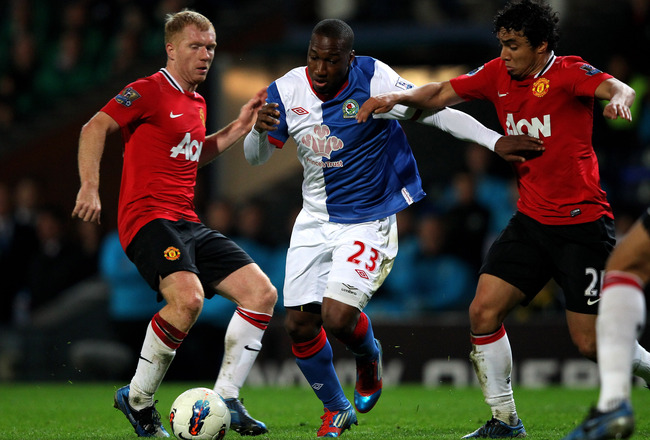 Junior Hoilett - Playing for recently relegated Blackburn, Junior Hoilett has been one of the only shining lights for the North West club in the past few years. The Canadian has come up with some stunning and integral goals which could have helped keep up Rovers.
His pace is extraordinary, and at only 21 he is in no danger of losing it any-time soon. He is also an excellent dribbler and pops up anywhere around the pitch, very much suiting the Arsenal style of play. Hoilett has amassed an impressive 7 goals and 5 assists this season, in a very poor Blackburn side and you'd expect he could get much better stats at a club like Arsenal.
Yet there are some negative aspects of his game. He tends to drift in and out of matches quite easily, and shoots from all angles with many of his efforts ending up right at the back of the stand in row Z. Similarly his crossing is no better than the options we have at the club, which makes it pretty poor to be honest.
The Canadian is available for a nominal fee since his contract is about to expire, which is much cheaper than any of the other options and may endear him to Arsenal's scouting team. He is also unlikely to demand high wages, so could turn out to be a very shrewd acquisition. We would definitely have to fight for his signing with many teams interested in him, including Tottenham and Newcastle.
Overall, preferably I'd like to see Dempsey or Dembele join us as they are closer to the finished article and seem to have a more rounded game than the 21 year old. Yet the fact that he is available on the cheap may convince us to pounce for him, especially as we may not have much left in the bank if other rumours are to be believed.
Rumour Rating 6.5/10
In conclusion, all 5 of these targets would be viable transfer targets for us this summer. Sessegnon and Dempsey in particular have had stellar seasons and would give us versatility and quality for a reasonable price. Dembele and Sigurdsson are also very attractive, playing centrally in midfield and still getting and creating goals. Sigurdsson probably just edges it for me, and may be a cheaper option the the Belgian, as well as being younger. Lastly Hoilett may well be the most likely transfer. In my eyes he is not as good as the other 4 players here, but he is available very cheaply and could add depth to our squad that we need.
It just shows you dont have to shop in other leagues to find exceptional talent. But if we are more concentrated in recruiting players like Podolski, Kagawa and M'vila, I don't care where Arsene spends his cash.