Still on the recovery from the 48 hour misery that the Fulham result has exerted over me. There's a lot to reflect on, with the same old stories of failing to close out the game after a good enough display, and having a lack of any depth in our squad. Yet we cannot let it ruin our year.
We have to look to the future, and that start with Leeds. The first teamers of Van Persie, Arteta, Ramsey, Song and Szczesny can expect a well earned break after almost endless 90 minute performances this season. Koscielny and Mertesacker both probably need a rest too, but with defensive injuries taking their toll we don't really have any alternatives.
The main team news will hopefully be the return of Thierry. The king will not have the ability to tear teams apart with his powerful, jaw-dropping pace. But his pin point finishing will never leave him and considering the chances that we have let go recently (especially from Walcott and Gervinho) then he can definitely make a difference in the short time that he will be available.
The only hindrance is that we have not managed to wrap up the deal yet. Despite that beautiful picture that was leaked onto Arsenal.com, and everyone - even Wenger - saying that it will happen, we haven't wrapped up the deal yet. It will happen, but we would prefer to have the Frenchman against Leeds.
And apparently we are in a race against time to wrap up the deal in time. Henry has been training regularly at Arsenal for a while now, and is surely match fir and raring to go. But his membership must be confirmed with the F.A by Noon on Friday is he is to be available for Monday's game.
Arsene was said to have pencilled in Thierry for today's reserve game against Sunderland, a game where Park had another miserable outing in front of goal as we slumped to a 2-0 defeat, as he is unwilling to thrust Henry straight into the rigours and pace of competitive English football. Hopefully he will be ready for Leeds, afterall his record against them is second to none.
In better news for the Gooners, Sagna today spoke about closing in on a comeback. The much missed right back said:
"I was told I would spend three or four months out and I am on schedule.

I have resumed jogging and I should kick the ball again in the coming days."
It is vital that we get him back fit and firing as soon as possible. The lack of a conventional right back has depleted our line up for most of the season, especially with Sagna being our most consistent player, and probably the best player in his position in the league.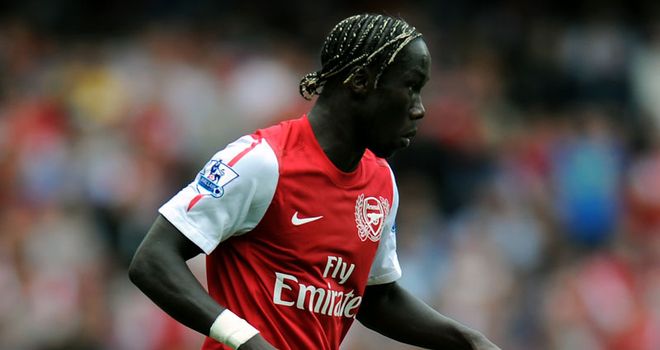 His absence has meant we've had to adjust some of our attacking play, with his regular forays up and down the right flank an integral part of our game. Whilst Djourou has tried, and fared well on some occasions, we only have to look to the game against Fulham to see where Sagna was missed. Bacary would never get sent off like that.
Our attacking play will also be hampered with the exit of Gervinho for the African Nations Cup. Whilst he has been slated by many, for his first season he has done well. In fact, he is only a bit of finishing practise away form having an amazing start, with 4 goals and 7 assists so far. Sure he has missed a lot of good chances, but on form he would be putting those chances away and would probably be getting Van Persie like statistics.
It looks like Gervinho will link up with his Ivory coast team-mates before the Leeds game too, the Guardian has revealed, and with a team featuring the likes of Drogba, Tiote and the Toure brothers he is set to stay the distance. Wenger will try his hardest to keep the dreamy dribbler, but it looks like he is facing a losing battle. We could end up with a very weak team to face Leeds, and with the squad wafer thin as it is, a replay is certainly not in our best interests.